CNY GIFTBOX - THE RISING LUCK [22 items!!]
Hi, I'm Li Wei from LiWei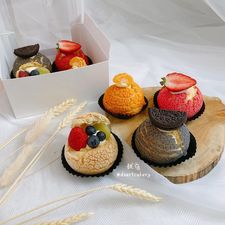 D'sert Cakery is a sweet local family owned bakery located at Taiping, Perak. We pride ourselves with delivering the sweetest treats, cakes and gift box to you! All of our treats are made fresh from scratch with every order. Nothing is ever frozen and we use all natural ingredients. Great care is taken with each and every order, and decorated to impress. Combining our good old fashioned scratch baking with fresh ideas push us into creative unchartered cake decorating territory. We promise to leave you satisfied and full of happiness with every bite!
Show more >
Nice Packaging, Taste good and my friends & family Love it
Ordered CNY GIFTBOX - THE CLASSIC BEAUTY [10items!!]
Leong Hoi Yan
Sep 11, 2020
Tastes good and sooo CUTE ! Worth the money ~ Will order again next time for picnic :P
Ordered Earl Grey Chiffon Cake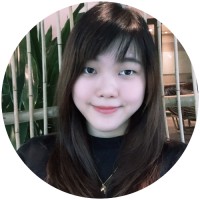 My recipient received the gift set just as pictured! Thank you so much!
Ordered MooMoo礼盒D *黄梨酥,花生饼,百香酥*
Delivery time did not match what been indicated and can't really track
Ordered Black Thorn King Snow Skin Mooncake (6pcs) 黑刺皇中皇冰皮月饼 (6粒)
About the food
This giftbox includes: - 8x Chicken Bakwa 鸡肉干 - 1x Peanut Cookies (tub) 花生曲奇(罐) - 1x Walnut Choco Crisp (tub) 可可脆片(罐) - 1x "Good things to come" Persimmon Red Bean Cake "好柿花生"柿子形红豆饼 - 1x "Good things to come" Peanut Red Bean Cake "好柿花生"花生形红豆饼 - 2x Mandarin Oranges 柑橘 - 3x Pineapple Tarts (pack) 旺旺黄梨塔 (份) - 5x Maple Nut Tart (pack) 枫糖坚果塔(份)
Minced chicken meat
Honey
Fish sauce
Miso paste
White pepper
Oyster sauce
Soy sauce
Salt
Butter
Eggs
All-purpose flour
Lemon juice
Pineapple filling
Cooking oil
Persimmon
Peanut
Red bean paste
Ground roasted peanuts
Powdered sugar
Peanut oil
Shortening
Almond powder
Almonds
Corn starch
Maltose
Light cream
Maple syrup
Brown sugar
Vanilla extract
Walnuts
Castor sugar
Mandarin oranges
Diet Preference
Non-Halal
Suitable for Children (4-12yrs)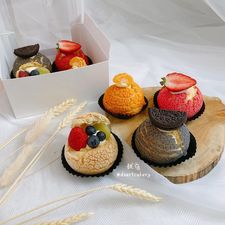 Kravve's Trust & Safety
Customer Support from 09:00 to 16:30